This is the final tip for on little ways to speed up housework.
Click on the picture to buy directly from The Container Store!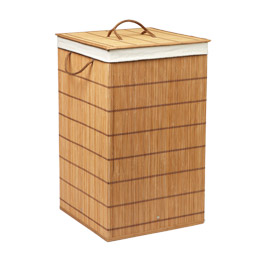 Again, this might be a no brainier to some of you and an Ah, ha, to others. Having a laundry hamper in every bedroom is essential when it comes to keeping up with the clutter. Some find it neccessary for each family member to have a laundry hamper even if some are sharing rooms.
Following through with putting dirty clothes in the hamper with your kids, significant other, and yourself is another must. When it's time to do a load of laundry at my house, I have everyone bring in their hamper to laundry room, sort the dirty clothes into appropriate color piles and then return the hamper to their rooms. There should be no excuse to have clothes on the floor of rooms when there is a hamper to put the dirty clothes in and hangers to hang up clean clothes. Again, Enforcement is the hardest thing. If your children know you are going to follow through with a consequence if dirty laundry is not put in the proper place, then a laundry hamper in each room can be your best friend!
Happy Thursday!